Baby Essentials
So… you're having a baby. Or maybe you've been dreaming of having one. Either way, you've got baby on the brain and you're wondering what you actually need before your little mini-me arrives. We're definitely in the thick of baby-everything these days. When I started writing this post, my 3-month old was sleeping beside me in his Moses basket and my teething 17-month-old in the throes of growing those pesky molars was sleeping irritably in his room. Our children are very close in age: Judah was born when Micah was 13 months old. Though we have our hands full, having two boys close in age means that there are lots of things that the boys get to share.
We are also in the season where most of our friends are growing their families and we are all leaning on each other for support and wisdom. There are also bags of maternity and baby clothes that go around each family as we take turns sporting baby bumps and changing baby bums.
Luke and I are often asked about our tips regarding baby stuff - from baby items around our home to the clothing we choose for our boys. So I am writing a two-part series of our thoughts and rationale when it comes to baby gear as well as short list of a few of our favourite baby things.
The Schenk Haus Guide to Buying Baby Junk Stuff
1. For big-ticket baby gear, agree on a balance between beauty, utility, cost, and longevity.
One of the frequently-occurring arguments around our home is related to baby stuff. Because I spend most of my days with the kids, I am more likely to need/want baby things at home. I want bouncers and high chairs, swing sets and play mats. Luke, on the other hand, would get rid of everything and narrow down his "baby stuff" list to extra-large bins filled with LEGO (Dads, amirite?). Despite my desire for more baby junk, we both tend to favour a minimalist-esque aesthetic. So we knew we needed to meet in the middle and thoughtfully identify which items we truly need that are not obscenely noisy, colourful, or expensive. I wish I could say that our favourite companies in the industry want our family to promote their stuff and send us their coolest products (👋 Nuna), but until then, we're left to our own devices to score the items that we actually need. One general rule we agree on is that it is our family's home, meaning it is a shared space for all of us. Having children did not mean automatically converting our space to a kid's playhouse with foam play mats, toys, obnoxious baby-proofing locks and baby junk everywhere. We agree that our living room still needs to be a peaceful place for us as parents; however, we also didn't want to make it unsafe and uncomfortable for our kids to play in. In essence, the rule is this: we need to nurture a kid-friendly space with an adult-friendly aesthetic in our home.
Because of our pre-established rule, Luke and I are often able to find a middle ground between which items we truly need to have and which ones we don't. For example: When Micah was about 5-6 months old, I told Luke that he NEEEEEDED an exersaucer to keep him occupied during the day. Because most of these things are large and boisterous, we settled for a portable, plain black Jolly Jumper that we're able to store in the kids' closet when not in use. One other point to consider is the cost of the item as well as how long/often you will be using it for. It may be easy to fall into the trap of trying to buy the cheapest item on the shelf, thinking that it will only last a short while. But if you think more kids are on the horizon for your family, reduce your list of "wants" and invest in a few good "needs". That way you will have durable and beautiful items that that can be passed down to siblings (cousins? friends?). There are certain things that are used more frequently, so we knew that these are the items that we wanted to invest a little more money on. A few of the items we invested in include: car seats, strollers, and high chairs. For a list of our favourites, check out part II of this post.

2. For smaller, more "day-to-day items", remember: reduce, reuse, recycle.
To be honest, when I was pregnant with Micah, part of me couldn't imagine buying anything second-hand for him. It had taken us a few years to get pregnant, and once those two pink lines appeared, I wanted to spend our entire life savings on expensive new clothes and random things the Internet told me I would need during baby's first year. However, a family friend of my in-laws' sold them large bags of gently used boys clothes for a really good price. Though initially hesitant to put my much-anticipated child in "someone else's stuff", I quickly learned that secondhand baby clothes can come in really good condition and at a fraction of the original cost.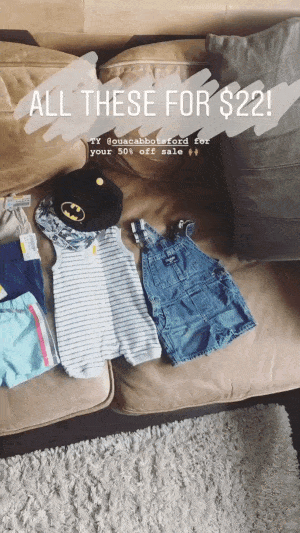 Fast forward two years, and one of my favourite stores is Once Upon a Child - a children's consignment store. They often have clearance sales, with items as low as $1 each. At this point I'd say 70-80% of the boys' clothes are gifted or secondhand. Remember to also check out Facebook Marketplace, Kijiji, Craigslist etc. for toys that you may want at a fraction of the cost.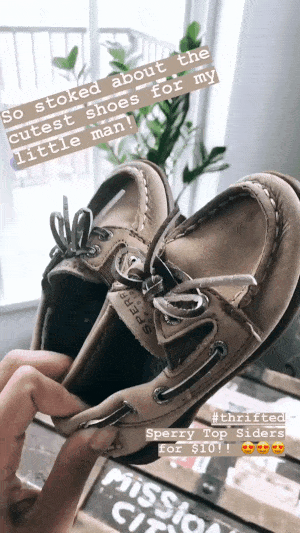 3. A few basics go a long way.
A little caveat: this is 100% personal preference! Before our kids were born, Luke and I agreed that we preferred kids' clothing that looked a little more like adult clothes than baby clothes. We are not huge fans of clothes with childish patterns, cutesy text, or colourful cartoon characters on them. Micah often wears plain white t-shirts and jeans. Granted, our kids are still young and basically have no say in what they wear, so Luke and I are savouring the season where we get to dress them however we like. I know that there will come a day when they will refuse to wear what I've laid out and choose light-up Paw Patrol shoes over the pretty brown leather boots I've saved up for.
4. Ask for gift cards.
We've been blessed with pre-and post-baby showers to celebrate our boys and often the question remains: "What do Luke and Hazelle need?" The answer is almost always: gift cards. We tend to be pretty picky with that we buy for our boys so gift cards allow us to buy the things we want when we need them. Amazon gift cards are especially handy because we purchase our diapers and wipes from there. Gift cards also allow you to set the money aside to buy something you want from a store when the need arises - i.e., having gift cards set aside for when you need to buy the next size set of clothes for your baby.
5. Find a home for stuff.
For your own sanity, try to first think about where an object will live in your home before you buy it. This is especially true for large toys. I know there are lots of really cool DIY projects out there: from toddler busy boards, to spruced up play kitchens, but if you can't think of where an item will live, then don't buy/make it. Otherwise, all that junk will end up on your living room floor and it will drive you bonkers. Kids like to play wherever you are. If you spend a lot of time in the kitchen or the living room, you can expect your kids to naturally gravitate towards you with their toys in tow. If you don't want that item lying around where you spend a good chunk of your time at home, then you don't need it. Note: This is also true for gifted items! If you are gifted with an item that you do not have a home for, don't take the tags off and either re-gift, donate, or sell the item.