A quick caveat before I get too carried away: remember that I have two boys close in age, so obviously this list favours boys and smaller children. I'll post an updated favourites list when the kiddos are a little older!
We usually try to do a decent amount of research before we buy items for our kids -- that way we can confidently spend hard-earned cash on items that we know we'll love and will last. As much as I wish we could say that we only buy name-brand/localy-sourced/environmentally-friendly/danish-approved etc. items, the reality is that not all of us can afford such things, so often we know that we have to limit ourselves to a realistic budget.
So… in no particular order, here are a few of our favourite baby/toddler essentials!
Nuna car seats and strollers. Okay, just Nuna everything.
We're in loooove with Nuna. We first got introduced to it by doing a lot of research on light car seats and we ended up buying (/ being gifted, thanks lolo!) a Nuna PIPA car seat. We like Nuna products because they are durable, strikingly beautiful, and tend to have a longer expiry period (7 years). Hopefully this means we only have to buy the one bucket seat because we'll be done with the baby-making phase of life within the first 7 years. We initially bought a Nuna TAVO stroller which made clicking the PIPA in a breeze.

When we found out we were expecting #2, I told Luke that we NEEDED a double stroller because it'd be the only way I would get out of the house with both kids in tow. When I found out that Nuna had just come out with their first double stroller, I felt like we had won the lottery! The biggest reason we love the Nuna Demi Grow is that it is one of the most compact double strollers out there. Even with two kids attached, the length of the full stroller is not much more than our single -- this makes pushing it around a breeze! The fact that it is also sleek and stylish is a cherry on top.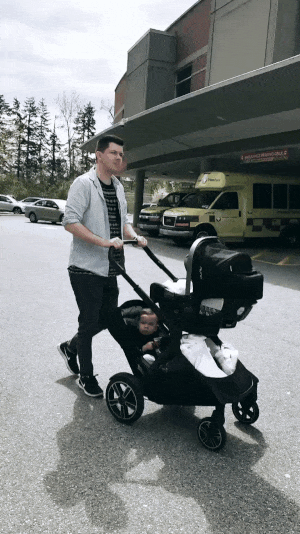 When Micah outgrew his bucket seat, we were hoping to upgrade to the Nuna Rava car seat; however, it is not yet available in Canada. We've learned the hard way that Canadians can't buy American car seats… so we opted for the Clek Fllo instead. We are so far loving it! The car seat is sleek and easy to install.

Maybe if we win the lottery we'll buy everything Nuna makes (from their baby swing to their play yard and high chair), but alas… we'll settle for their travel system for now.

Burt's Bees Baby
Sleepers with zippers always trump those with snaps. Especially when it's 3am and you're fumbling in the dark trying to change a diaper with one eye open. However, since Judah was born 6.5 weeks early and spent time in the NICU with monitors attached to his body, the snaps were necessary for him to make the wires come out of his preemie sleeper easier.

You'll probably notice that our kids also wear lots of plain blue/white/gray t-shirts. We buy these in 6 packs.

Their burp cloths are also great!

Ikea
Ergopouch Sleepsacks
I am terrified of my kids sleeping with blankets and being accidentally suffocated by them, so I'm all for safe sleeping (I don't use blankets/crib bumpers/toys etc. in their crib until they're closer to a year old). My favourite sleepsack so far is the Ergopouch sleepsack… because zippers trump velcro. :) I've used other sleepsacks in the past and I think Ergopouch has some of the cutest and easiest-to-use ones.

Kids clothes/shoes
Most of our kids' clothes are: gifted, thrifted or on sale.

If I do buy clothes, they are most often from: H&M, Old Navy, Target and Zara. I know, I know. Fast fashion gets a bad rap… however, as I mentioned previously, not all of us can afford $50 onesies. I really wish I could help all the small businesses and support all those hard-working mamas… but, right now that's not a reality for us. If we have a little extra cash, then occasionally we will splurge on an item, but this is very rare.

For shoes: I'd say Minimoc (a local Abbotsford brand!) is one of my favourites because of the quality of the items. Babies obviously don't need shoes, but can you blame me? They are SO.DARN.CUTE. Mom tip: Minimocs are soft and super flexible -- so they are also great for kiddos who are learning to walk!

A little bit of a splurge for us, but these Adelisa and Co. boots are a favourite item as well!

When we were expecting our first, one of our first purchases were swaddles from Modern Burlap. They've since started making baby clothes as well, and they are amazing!

Mitsui High Chair
It's sleek, stylish and portable. I hear that these are no longer sold in Canada, but I was able to score two on Facebook Marketplace.
Gathre Mats
You'd have to feel it to believe it. These mats are buttery soft, and utterly beautiful. They're all-around mats that are super handy when you have littles running around making all the imaginable messes in the world.

Ergobaby Carrier
I've tried my fair share of baby carriers: Solly Baby Wrap, Infantino Carrier, and Boppy Comfyfit Carrier, and so far my favourite has always been my Ergo. It offers the most support for my back and it is the one that feels the most secure for my baby. My biggest beef with it is that it is not suitable for traveling due to not packing up small.
For traveling, we use the Boppy Comfyfit carrier - it is super easy to use, has a nice stretchy fabric, and packs up super small! You can also wear your baby forward-facing if he/she is able to keep his/her head up!
Infant Neck Floatie
Seriously one of the best purchases we've ever made. We introduced our boys to our neighbourhood pool pretty early on, and by 3 months of age, they were both super comfortable being in the water - major thanks to their water-lovin' dad and this super super awesome neck floatie (Note: colours were chosen randomly so we ended up with a pink one!).
Bum cream

I've tried several types of cream and my favourite is hands down the K'pure Naturals Overachiever balm. I just feel like it's a magic potion that solves all skin-related problems that my kids get. Whenever I use it consistently, my kids do not get a rash. If and when they do get a rash, a couple of days of this salve and badabing badaboom! Buh-bye rash.

Haakaa Pump
Is it too much to say that this pump is a definite must-have for breastfeeding mamas? Because it is. For both kiddos I had pretty low milk supply so every little drop of milk is capital P precious to me. Once you start breastfeeding, you'll quickly learn about this little thing called "the letdown" where milk comes down from the heavens and soaks through your clothes. I like having my Haaka nearby so I can catch whatever milk I can (which I then freeze for later). If you have lots of milk (lucky you!), I've heard that it's also handy if you just need to quickly empty them girlies because it's so uncomfortable having to carry literal milk jugs everywhere. (Little too graphic? Yep.) I still love my regular Medela electric pump, but as far as manual pumps go, this is the best. You don't need to do anything; just suction it on and the magic happens.

Logitech Baby Monitor
This isn't necessarily a baby monitor, but it functions well as one. We bought it before Micah was born so I could spy on my overly-anxious dog during the day while we were at work. It allowed me to speak into the app on my phone through the camera at home. Now with two kids, it is especially handy for trying to shush a kid back to sleep while looking after another in a different room. The downside is that I don't have the video running all the time because I don't want to drain my phone battery. So I also have an audio-only monitor that alerts me when a kid is crying. Only then do I open the app to check on what's going on and try to shhhh the baby back to sleep if I can.

Kids toys
Some of our favourite toy brands are: Melissa and Doug, Lego/Lego Duplo, Ikea toys and German brands like Playmobil and Bruder. I enjoyed my Vtech play computers as a kid so our kids have one play laptop as well. Other than that, we try to limit the toys to classic wooden items or sturdier toys that we know can last a while.